Authors: Yang Limei, Dr. Janna Lipenkova


In many aspects, China's ESG practices significantly lag behind those of the European Union and the United States. However, with the implementation of the ambitious "double carbon target" policy (双碳), which aims for a carbon peak in 2030 and carbon neutrality in 2060, China's ESG landscape is developing rapidly. The main drivers are the gradual improvement of ESG laws and regulations, a sound policy system and the expansion of investment offerings in the ESG sector. In this article, we review the recent developments, main ESG topics as well as challenges faced by ESG in China.


1. ESG in China - the status quo

ESG in China is still at an early stage of development and the level of disclosure is low. While the ESG system is continuously improving, the status quo of the Chinese ESG landscape can be summarized as follows:


The investment sector does not yet prioritise ESG.
ESG disclosure is low, with a disclosure rate of less than 30% in the A-shares market.
Only a few companies that have entered the international market have conducted thorough ESG assessments and implemented corresponding policies.

The disclosure of environmental information in China is mostly voluntary. Its truthfulness, accuracy and reliability need to be further verified to mitigate greenwashing effects ("quantity over quality"), whereby some companies selectively disclose information that is beneficial to the company while silencing the less positive aspects and impacts of its operations. Therefore, it is difficult to make a reliable and objective evaluation of Chinese ESG indicators and ratings.

However, with the formulation of China's double carbon target, the three ESG dimensions have been closely tied to the themes of emission reduction and sustainable development.[9] Subsequently, Chinese authorities and regulators have introduced several more specific policies to promote ESG disclosure and quality control.

Concurrently, ESG investment in China is also growing rapidly due to this new strategy. According to CICC (China International Capital Corporation), the overall size of ESG and sustainability-related asset management products is expected to reach $20-30 trillion by 2025, equivalent to 20%-30% of the overall asset management market, and the size of ESG-related public equity funds will approach $750 billion, with a compound annual growth rate of 26%.[1]


2. Public perception and central ESG topics

Based on a variety of Chinese and international public media, the following chart shows which ESG dimensions and topics receive the highest public interest.






Figure 1 - Most prominent topics in public ESG discussions related to China

(source: Equintel data [10])



The S dimension is most prominent, followed by E and G. Inside of S, the issue of Human Rights, which was brought into public focus by the controversy around Uyghur forced labor, is most prominent. The distribution of E topics is similar to the international discussion. For G, Russia's invasion of Ukraine has put China-Russia relations into the spotlight, as becomes particularly clear from Figure 2 where attention to Russia and related sanctions peaked in the first half of 2022. It is important to note that while these topics dominate the public discourse, many of them are too recent to be adequately covered in formal ESG frameworks.


Figure 2 - Share-of-voice of the most prominent ESG risks over time
(source: Equintel data [10])
3. Comparing ESG development in China and the OECD countries

The rate and quality of ESG disclosure have a direct impact on the success of ESG investment decisions and the sound functioning of the ESG ecosystem. Compared to Europe and North America, the level of ESG information disclosure by Chinese companies is relatively low. According to survey data from Corporate Knights, a Canadian media and investment research firm, the SSE, SZSE and HKEx ranked 41st, 44th and 27th respectively in the 2019 ESG disclosure ranking of the 48 exchanges worldwide, with corporate ESG disclosure rates of 24.2%, 18.1% and 43.5% respectively among the three exchanges. However, ESG disclosure is proliferating, as more and more companies begin to understand the benefits of a sound ESG strategy.

When looking at the three ESG dimensions, disclosure rates are also misaligned with the central topics of interest identified in Section 2, especially for E and S which receive the highest external attention. For instance, the issue of Human Rights, which appears to be most prominent in external data, does not enjoy high disclosure, with companies focussing their social reporting on social welfare, employee health and safety. Governance reporting is actively practised by Chinese companies but focuses on remuneration and the independence of the board of directors, while controversial issues such as corruption and anti-competitive practices are deprioritised.

The current ESG disclosure of Chinese companies is mostly based on qualitative indicators. According to the CSI 800 Index for 2018-2021, which rates disclosure quality, the proportion of medium-rated companies has increased significantly during this period. However, with over 60% of companies still having a medium or low level of ESG disclosure quality, the quality of ESG disclosure of listed companies still leaves ample room for improvement. In the CSI 800 Index, the disclosure status of G indicators is better than that of E and S indicators. The disclosure ratio of S indicators has a large scope to improve. The exposure rate of E indicators has increased even more, with its disclosure rate rising by 18.10%, much higher than that of G and S indicators. This is mainly due to the Chinese government's policy and the market environment becoming increasingly concerned with environmental issues such as climate change in recent years.[3] This trend is also reflected in the number of Chinese organisations joining the UN Principles for Responsible Investing (PRI) scheme, as illustrated in Figure 3.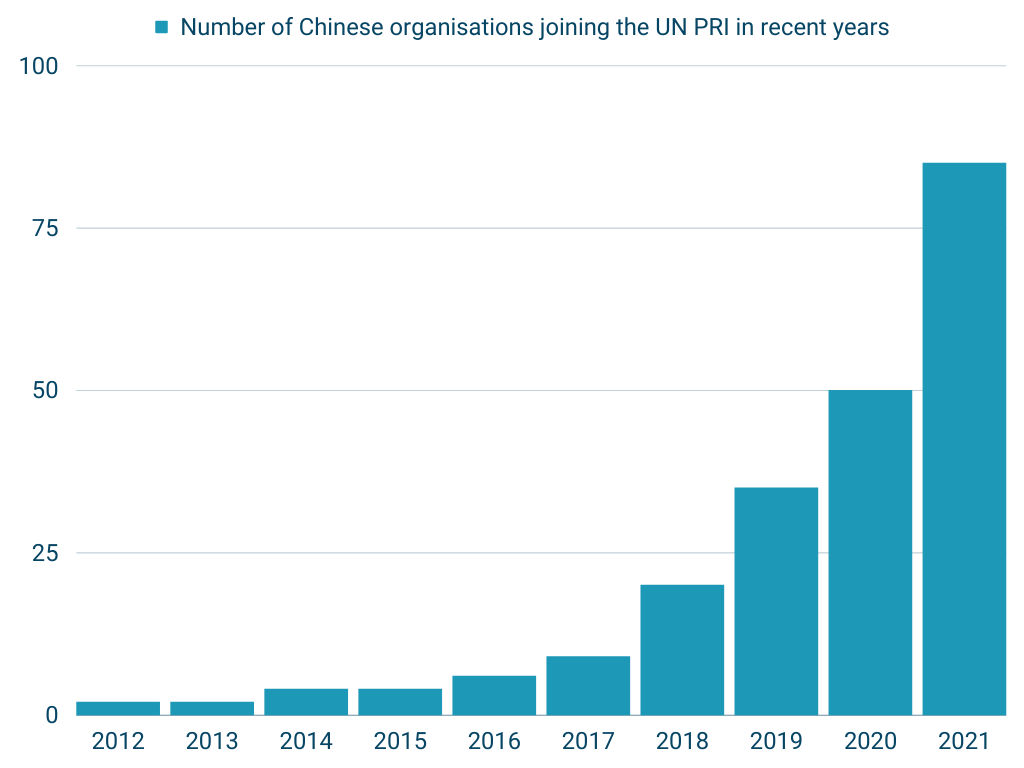 Figure 3 - Chinese organisations are increasingly engaging with the UN PRI scheme
(source: UN PRI)
4. Regulations and standards

Compared to the EU as a global leader in ESG standards and disclosure, Chinese ESG disclosure is still in its beginnings. In terms of general policy, the ESG disclosure requirements for Chinese companies are rather fragmented. For example, the ESG data of Chinese A-share listed companies is currently mainly derived from annual reports and CSR reports. There is no nationwide policy on the scope of content, mandatory requirements and timeliness requirements for corporate E, S and G disclosure as provided by the CSRD. Furthermore, there is a lack of unified and specific guidelines on disclosure indicators.
In regard to the compulsory nature of the policy, requirements have been tightened, but it is still low compared to EU countries. The G-level disclosure requirements are the most compulsory, covering all listed companies; the E-level is the second most compulsory; with the introduction of a carbon neutrality target in recent years. Government departments have issued more compulsory policies on environmental disclosure, requiring highly polluting enterprises to disclose environmental-related information. However, there are currently fewer disclosure policies for those companies not involved in environmental issues.[3] Finally, requirements on S disclosure are fairly relaxed, which is surprising given the prominence of Human Rights issues in the Chinese ESG discussion (cf. Figure 1).
The regulatory system of ESG in mainland China has developed through three main stages:


Before 2008, the concept of ESG was introduced and voluntary disclosure was promoted in China. During this stage, the government, regulators and exchanges, in order to promote sustainable economic and social development, drew on overseas experience in social responsibility development. In light of China's actual development situation, they gradually formed a new concept of social responsibility and advocated and encouraged voluntary disclosure of information, laying a solid foundation for the future development of ESG investment concepts in China.
From 2008 to September 2015, there was a co-existence of voluntary and mandatory disclosure of social responsibility reports and ESG reports. During this phase, the government, regulators and exchanges clarified the disclosure of social responsibility, and a related mandatory disclosure policy emerged, facilitating further improvement of the concept of socially responsible investment in China.
Following September, social responsibility reporting and disclosure system for ESG companies was elaborated further. During this phase, the Chinese government, regulators and stock exchanges have made corresponding changes to the regulatory policies of the Chinese securities market, providing investors with more reliable and efficient ESG information, as well as quantitative assessments. In addition, some listed companies in China have joined the ESG rating system, bringing them truly in line with international standards.

At the same time, the phenomenon of "greenwashing" - asymmetrical information in the context of inadequate corporate ESG disclosure systems - has been addressed. The Central Bank of China, the Ministry of Finance and seven Chinese ministries and commissions have jointly issued the "Guidance on Building a Green Financial System". The People's Bank of China has promoted the "Green Financial Evaluation Programme for Banking Financial Institutions", and the Central Bank of China and three other departments have jointly issued the "Catalogue of Green Bond Support Projects (2021 Edition)". The China Securities Investment Fund Association has promoted the "Green Investment Guidelines (for Trial Implementation)". The China Securities Investment Fund Association has similarly promulgated relevant regulations to regulate the development of green finance in China, and the China Securities Regulatory Commission, Shanghai and Shenzhen have introduced relevant environmental regulations to curb greenwashing. However, it is clear that these industry regulations are not yet sufficiently authoritative or effective.

Beyond Chinese government policy, international ESG disclosure standards also play an important role. The reason for this is that Chinese ESG disclosure policies (other than the SEHK) do not specify and refine corporate reporting requirements, so Chinese companies have a wider range of ESG reporting tools and methodologies to choose from.

Currently, there are a number of issues with the disclosure standards for listed companies in China. First, ESG disclosure standards have different focuses. For example, the GRI focuses on economic, environmental and social impacts while deprioritizing governance. Secondly, due to the heterogeneity of existing standards, ESG disclosure policies are fuzzy and the ESG information disclosed by companies using different standards is not very comparable. Thirdly, for China, the mainstream standards do not adequately reflect the specifics of the Chinese business context as they are all developed by foreign organisations.[3]

However, the China Enterprise Reform and Development Research Institute published the first ESG corporate group standard, the Corporate ESG Disclosure Guide, on the 16th of April 2022. This indicator is based on relevant Chinese laws and regulations to establish an ESG disclosure indicator system that is in line with China's national conditions and reflects the characteristics of Chinese corporate responsibility, It defines the principles, indicators, requirements and scope of application of ESG disclosure, and is applicable to enterprises of different types, industries and scales. It has three primary indicators, ten secondary indicators, 35 tertiary indicators and 118 quaternary indicators, and enterprises can disclose all or part of the indicators. The standard will be implemented from June 1, 2022, (Daily Economic News, 2022)
From a "voluntary adoption" point of view, the standard is not mandatory. However, as China's first ESG group standard, its significance is groundbreaking. Investment in ESG and related research in China is still in its infancy and there are many issues that need to be addressed. One of the biggest problems is the lack of a local authoritative and unified ESG standard. The development of this group standard demonstrates China's intention to develop an ESG standard that is suitable for China's national conditions in the future and to achieve "quality and quantity" of ESG investment and financing in China in terms of "quality and quantity".


5. Chinese ESG investment products

The number and size of ESG-themed funds have been steadily increasing in the last few years (cf. Figure 2). By the end of 2021, a total of 200 ESG-themed funds (the shares of which have not yet been consolidated) were established during the year, totalling over 257.84 billion RMB in value.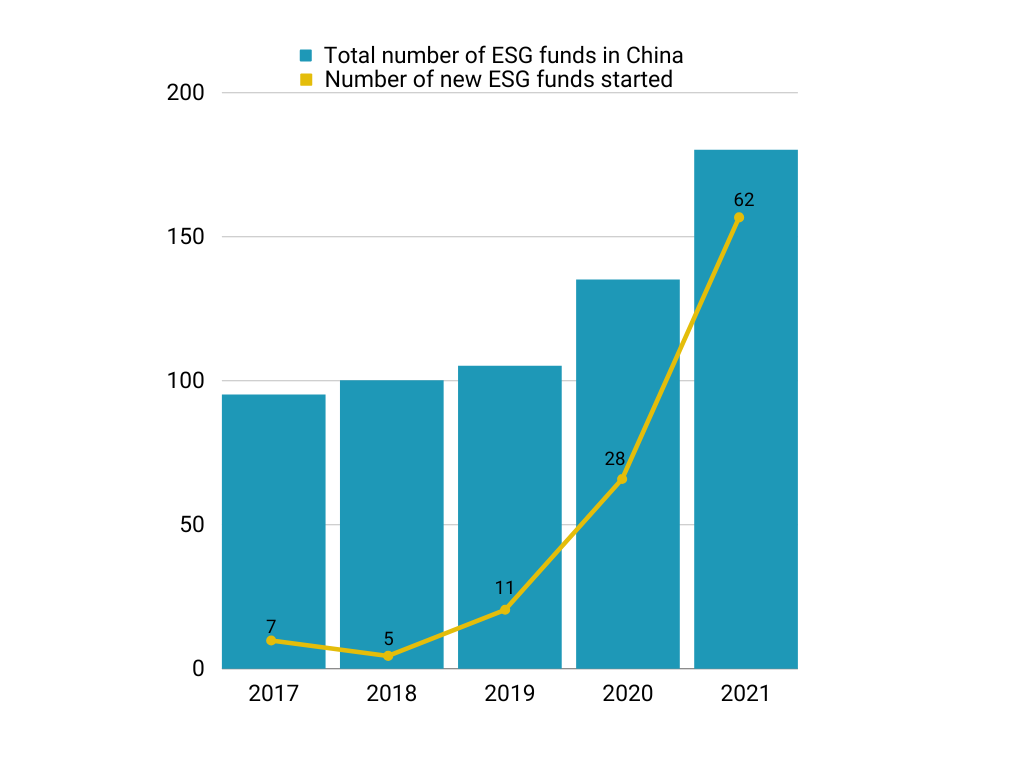 Figure 4 - Growth of ESG funds in China

(source: WIN.D, 证劵时报网 https://www.stcn.com/)


In terms of fund categories, equity and hybrid funds are prevalent, with 188 funds with a total size of 240.393 billion RMB, accounting for 93% of the total value of ESG products. Among these funds, 155 hybrid funds ranked high in terms of number and size (cf. Figure 3).





Figure 5 - Type of investment products prevalent in China

(source: WIN.D, 证劵时报网 https://www.stcn.com/)


With the termination of the transition period and thanks to the new rules on asset management, wealth management has also jumped on the ESG train. During the transition process, the number and scale of ESG financial products issued by banking and financial institutions have been increasing.

The launch of ESG-related products by banks' financial subsidiaries started in 2019. According to China Finance, as of the 8th of December 2019 (based on the start date of the offering), a total of 21 ESG-labelled financial products had been issued by banks and financial institutions. As of 2021, a total of 66 more ESG products have been issued by various banks and financial institutions (see Figure 4). Societe Generale Financial's ESG Prosperity Green Development is the first ESG hybrid financial product to pool more than $10 billion. However, the proportion of ESG finance is still very low compared to the $25 trillion-plus banking finance market. In addition, current ESG finance products are mainly fixed income, with hybrid and equity funds coming in second.


Summing up: the main challenges of ESG development in China

The development of the Chinese ESG ecosystem is still in its infancy. The main challenges are as follows:

Lack of a complete disclosure system for ESG at the government level. Because of the wide range of information covered by ESG, government guidelines are fragmented and mostly focus on quantifiable aspects of the E dimension. So far, the government could not provide a universally accepted and exhaustive ESG framework.
Restricted availability of and access to ESG data. While a couple of highly polluting and energy-consuming enterprises are obliged to disclose their environmental indicators, ESG disclosure remains optional for most public companies. This is coupled with the fact that public companies do not have high requirements for ESG information disclosure and tend to take relevant information as a reputational consideration, often appearing to report good news but not bad news. This lack of transparency makes both domestic and foreign investments more difficult.[8]
Lack of dedicated regulatory authorities and non-profit organisations. Although the disclosure of ESG information is undertaken by third-party organisations, there is insufficient investment in research on ESG disclosure and special regulatory and forensic bodies. At the same time, China is still in the process of promoting ESG system construction from top to bottom and lacks non-profit organisations that conduct in-depth research on ESG theory and implementation.[4]
Low capital participation. At present, Chinese institutional investors have a certain understanding of the ESG investment concept, but related engagement is still very low. Pension funds and social security institutions are more cautious in terms of feasibility studies and process implementation, and the decision-making process takes longer than that of insurance institutions, which have not yet incorporated ESG factors in terms of investment indicators and other aspects. By contrast, large institutional investors such as pension funds and insurance firms have a strong footing in the ESG investment market.[8]
References
[1] Chenyang, W. (2022). The scale of domestic ESG assets under management will reach 20 to 30 trillion Yuan [online]. IFENG. Available from: https://finance.ifeng.com/c/8Gt9HIWdG29

[2] Yichen, S and Xinru, C. (2022). The scale of China's ESG funds exceeds 200 billion Yuan, beware of the "greenwashing" phenomenon of ESG investment. Daily Economic News. Available from: https://baijiahao.baidu.com/s?id=1736783379238420214&wfr=spider&for=pc

[3] Jin, Z and Wenwan, Z. (2022). ESG Special Report: Explaining ESG Information Disclosure in Detail, Drawing the Whole Picture of ESG Data, Future Thinktank. Available from: https://cj.sina.com.cn/articles/view/7426890874/1baad5c7a001012vkk

[4] Securities Times. (2021). China ESG Development White Paper 2021, China Capital Market Research Institute.

[5] White Bear Finance. (2022). Governance and Repression of "Greenwashing" - Strengthening Capacity Building, Sichuan. Available from: https://baijiahao.baidu.com/s?id=1734493402201704059&wfr=spider&for=pc

[6] T/CERDS 2. (2022). Corporate ESG Disclosure Guidelines, China Enterprise Reform and Development Research Association. Beijing.

[7] Daily Economic News. (2022). Corporate ESG Disclosure Guidelines. Available from: https://baijiahao.baidu.com/s?id=1730454263864224175&wfr=spider&for=pc

[8] Boston Consulting Group. (2020). China ESG Investment Development Report. P. 1-25

[9] UN PRI. (2020). China's proposal for achieving carbon neutrality. Available from: https://www.unpri.org/download?ac=14812

[10] Equintel dataset of ca. 400k English-language and 240k Chinese-language ESG-related articles from mainstream and business media, collected for the time period 2020-2022.